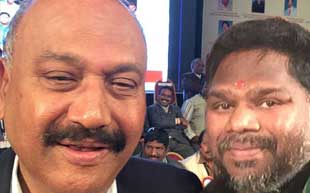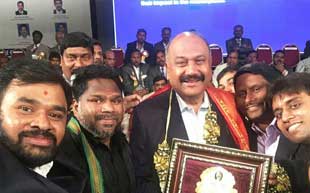 Respected Ramesh Gelli Garu,
Respected Gowra Srinivas Garu,
Members and Associates of Vysya Business Network,
All the Vysya Community people gathered here today,
Good Morning to you all!
Since our Group Chairman is unable to attend today'fs event because of health reasons, I will be reading his message for this august gathering. For those of you who don'ft know me, I am CEO of Hyderabad Airport and an ex-IAS officer from Kerala cadre. I have been associated with GMR for almost a decade now. Though our Chairman is not here in person, he is always there for Vysya community in spirit and hence very thoughtfully drafted his message for you all, which I will read now.
I am truly honored to be a part of this launch of Hyderabad Chapter of Vysya Business Network (VBN). I am very much delighted to know that Vysya Business Network is planning to extend its chapters across the country. I think this is the much required need to promote our business community with a collaborative approach.
I was just going through the Vision, Mission and Objectives of the Vysya Business Network and was quite impressed. However, I suggest that our vision should be to make the Vysya Business community as the strongest and most influential business community across the world. And we can achieve this only if we create a strong 'eKnowledge and Learning Center's at VBN as per today'fs requirement.Today gathering consists of the prominent business people of our community, therefore I would like to take this opportunity to share with you my views on what I think is right to do to create an effective platform of VBN.
First, let us acknowledge that ours is a business community with DNA of entrepreneurship by virtue of being Vysyas. We have successfully created businesses which have contributed significantly to the economy and society both. However, our success and fame has been fading lately and we are unable to create large sustainable companies because of several reasons. I have earlier in my addresses at the community events spoken about these reasons in great details, hence I will not repeat them. But, will quickly talk about those reasons.
Through the changing socio-economic environment and Indian economy becoming a knowledge based economy, our Vysya people are focusing more on gaining higher education, which is very good, any knowledge and learning is always beneficial in the long run. One can always come back after education and take the business ahead. However, what is happening is that 'efear of failure'f is setting in which becomes a big impediment for any entrepreneur to grow the business by taking risks. As a result, we keep on continuing the same businesses, sitting in our comfort zones and enjoying past laurels.
To add to it, many Vysya families are having family disputes because of which they divide and compete against each other. Forget about scaling up the business, in this entire process, they are losing the value creation and eventually business deteriorates.
Further, we are living in a VUCA world which means Volatility, Uncertainty, Complexity and Ambiguity. Today, the socio-economic environment across the globe is changing so fast that nobody knows what is going to happen tomorrow. Governments, businesses, and economists have all been caught off guard by the geopolitical shifts that happened with the crash of oil prices and the slowdown of China'fs economy. Most believe that the price of oil will recover and that China will continue its rise. They are mistaken. Instead of worrying about the rise of China, we need to fear its fall; and while oil prices may oscillate over the next four or five years, the fossil-fuel industry is headed towards extinction. As a result, the global balance of power will shift.
If I just take the example of Energy industry, in the last few years it has changed dramatically. With the technological disruption by way of fracking and advent of shale gas, the America'fs dependence on foreign oil has reduced significantly as a result oil prices dipped to the south. This was the shock the whole world experienced. The next shock will come from clean energy.
Solar and wind are now advancing on exponential curves. Every two years, solar installation rates are doubling, and photovoltaic-module costs are falling by about 20 percent. Even without the subsidies that governments are phasing out, present costs of solar installations will reduce by half by 2022.By 2030, solar power will be able to provide 100 percent of today'fs energy needs; by 2035, it will seem almost free ? just as cell phone calls are today.
This may sound unbelievable today but this is how exponential technologies advance. They double in performance every year or two and their prices fall.
Exponential technologies are deceptive because they move very slowly at first, but one percent becomes two percent, which becomes four, eight, and sixteen; and that is where solar and wind energies are now.
Similarly, for decades, manufacturing was flooding into China from the U.S. and Europe and fueling its growth. And then a combination of rising labor and shipping costs and automation began to change the economics of China manufacturing. Now, robots are about to tip the balance further.
China is aware of the advances in robotics and plans to take the lead in replacing humans with robots. Guangdong province is constructing the world'fs first 'ezero- labor factory'f with 1,000 robots which do the jobs of 2,000 humans. This is just the beginning, in Western part of the world they have built the much powerful and intelligent robots, they are smart enough to thread a needle and cost just as much as a car does.
The world is at the beginning of a digital revolution. Anything and everything that can go digital, is going digital at an exponential rate. Faster than what you and I can imagine. Whether it is entertainment, commerce, healthcare, education, governance'c life is going digital. Through the ages, information and knowledge have driven humanity'fs progress. Life itself has relied on information through progress. Our genetic code, our DNA, the basis of our evolution is nothing but information. I believe that in the next 20 years, as human civilization, we will collectively achieve more than what has been achieved in the last 300 years. We are at the beginning of a new era for the humanity. If you are not digital, and if you do not have globally competitive digital tools and skill, you simply will not survive. You will get disrupted. You will be outcompeted. You will be left behind. You become irrelevant.
Hence, all these dramatic socio-political changes triggered by the technological revolution are causing big time geo-political shifts which we are already witnessing. Oil producing countries are falling from power center to insignificancy, Middle East is slowly moving towards instability,like Venezuela and Russia are on the verge of bankruptcy. Saudi Arabia has its own issues with Royal family and Clergy problems.
Europe is struggling from their biggest ever crisis of migration. It is being said that millions of people mainly from Syria, Afghanistan and Iraq have been displaced and are migrating to European countries, last year alone some 1 million refugees have entered European countries.might create plethora of problems in the near future. China is struggling with its slower economic growth, internal challenges like political reform, local unrest, corruption, human rights issues,challenges and so on. Many economists are saying that global recession is not too far.
The only safe haven today is India. Economists say that India is the only country in the world, which can withstand the global recession. Today, India has become the world'fs center of gravity because of its strong fundamentals, favorable demographics, resilient economic structure and its knowledge-based economy. I can say that we are at a right time in right place.
Therefore, this is a very appropriate time that you have started Vysya Business Network and you should leverage this opportunity to create a strong platform in order to create right type of awareness for our community people. I suggest that you should do it very methodically in a structured manner. There has to be an effective mechanism and I with my limited knowledge and experience would like to suggest five ways to achieve this.
First, create a 'eKnowledge Center'f or 'eThink Tank'f which should accumulate the recent information/material as what is happening around the globe, the emerging trends, technological advancements, government policies, regulatory frameworks, emerging and new business models. The relevant articles, books, periodicals, videos should be accumulated and circulated to the members.
Then, as a second step, there should be frequent discussion events to discuss all these challenges and ideas with the active participation of our community people. May be you can invite some experience or expert to moderate these sessions. For example, there is one American Dr. Adizes who has wonderfully devised the framework on 'eLifecycle of Corporates'f, which teaches as what should be done with the businesses on different stages. The Adizes methodology enables corporations, governments, and complex organizations to achieve exceptional results and manage accelerated change without destructive conflicts. Our chapter can organize one day learning session from Dr. Adizes as well.
It is very important to learn the smart way of management otherwise even the successful company goes bust. I firmly believe that there is no good business or bad business, there is only good management and bad management.?In this context, Airlines industry is a classic example. There is a saying that if you are a billionaire and wanted to become a millionaire, start airline business. However, there are very successful airlines like Indigo and South West Airlines who have consistently made profits amidst so many loss making airlines.? This is because of the smart management operations of the airlines.? What is needed is good management skills not investment alone. These type of good management learning sessions can be organized for our community people.
Another area where our community business people struggles is during scaling up their business. Hence, as a third step, there should be a separate learning mechanism for 'eScaling up the Business'f. For this, you can take advice from the industry leaders and experts as what all elements are required to do this. For example, to scale up the business, delegation is very important. Founder of the company should give the operations to the professional and free up his or her bandwidth. However that should happen very systematically and strong review mechanism should follow the delegation process. Then, separate discussion and learning sessions should be organized for the community people who are interested in this.
Once the business is scaled up, it needs to be sustainable for long term, which requires different mechanisms altogether. We did a study on the companies who have survived over the last 50 years and you will be surprise to know that only six companies remain in existence today, all others vanished. Therefore, there should be a separate learning mechanism for 'eCreating a Sustainable Business for Long Term'f as a fourth step. In this, the focus should be on the four pillars of institution building ? People, Process, Technology and Governance. You must create a proper mechanism for learning of all these elements and importance of them in creating a sustainable business. And, separate discussion and learning sessions can be organized for the people interested in this.
The fifth and last step is to create strong pipeline of 'eMentors'f. This is very essential in order to achieve all the above four steps. But, please be careful in selecting the mentors as the people who are committed to give their quality time and resources should be on the panel. There should be a genuine feel of serving the community. Otherwise, for the namesake please do not enroll anyone. Also, it has to be a mix of the successful business leaders and highly accomplished professionals. Then, there will be a right mix of advice. They can possibly guide our community people as what type of businesses to focus on, what different business models can be experienced in the coming times, focusing on the businesses with high entry barriers and so on.
Further, these mentors can also probably act as a bridge in guiding the people for fund raising and other financing needs required in scaling up their respective businesses.
My humble suggestion is to first create some value from existing chapter, devise a clear-cut framework for learning and implementation. That should become the purpose of the chapter. Lot of fundamental work has to be done before we go on creating new chapters. In fact, once we successfully create a mechanism in the existing chapter, it will be very easy to open up a new chapter and replicate the same mechanism there.
I hope the VBN community will move in this direction and I will be more than happy to assist in the best possible ways.
I would like to conclude with a small gift for all of you. I have brought a very good book titled 'eWHAT BROUGHT YOU HERE, WON'fT GET YOU THERE'f, written by Marshall Goldsmith, the world'fs number one management guru. In his book, he has identified number of habits which will be a stumbling block once we achieve a little success, unless you tide over these habits and get rid of them to achieve greater success in life. This book will give you the perfect insights at this right time to become a leader who will inspire, build relationships, think positively and lead from the front, at the same time, being a thought leader. Marshall says, the bad habits built into us over the years such as -
1. An excessive need to be ME,
2. 'eI know all'f attitude
3. Being a poor listener
4. Not giving credit due to others
5. Obsessed with our own goals
6. Thrusting our ideas on others
7. And, not expressing our gratitude
We must work to get rid of these habits which Marshall beautifully captures in this book, this will help us create a strong roadmap to reach further success in our professional and personal lives. Every entrepreneur must develop and nurture values like Humility which will keep the spirit of learning alive. I suggest you to not only read the book but also implement the learnings from the book in your lives. With this, I express my Gratitude to the Vysya Business Network for giving me this great opportunity for sharing my thoughts with the eminent gathering here. Thank You.